Coffee Date #1: Kindness Will See Us Through
On sex and more in the COVID times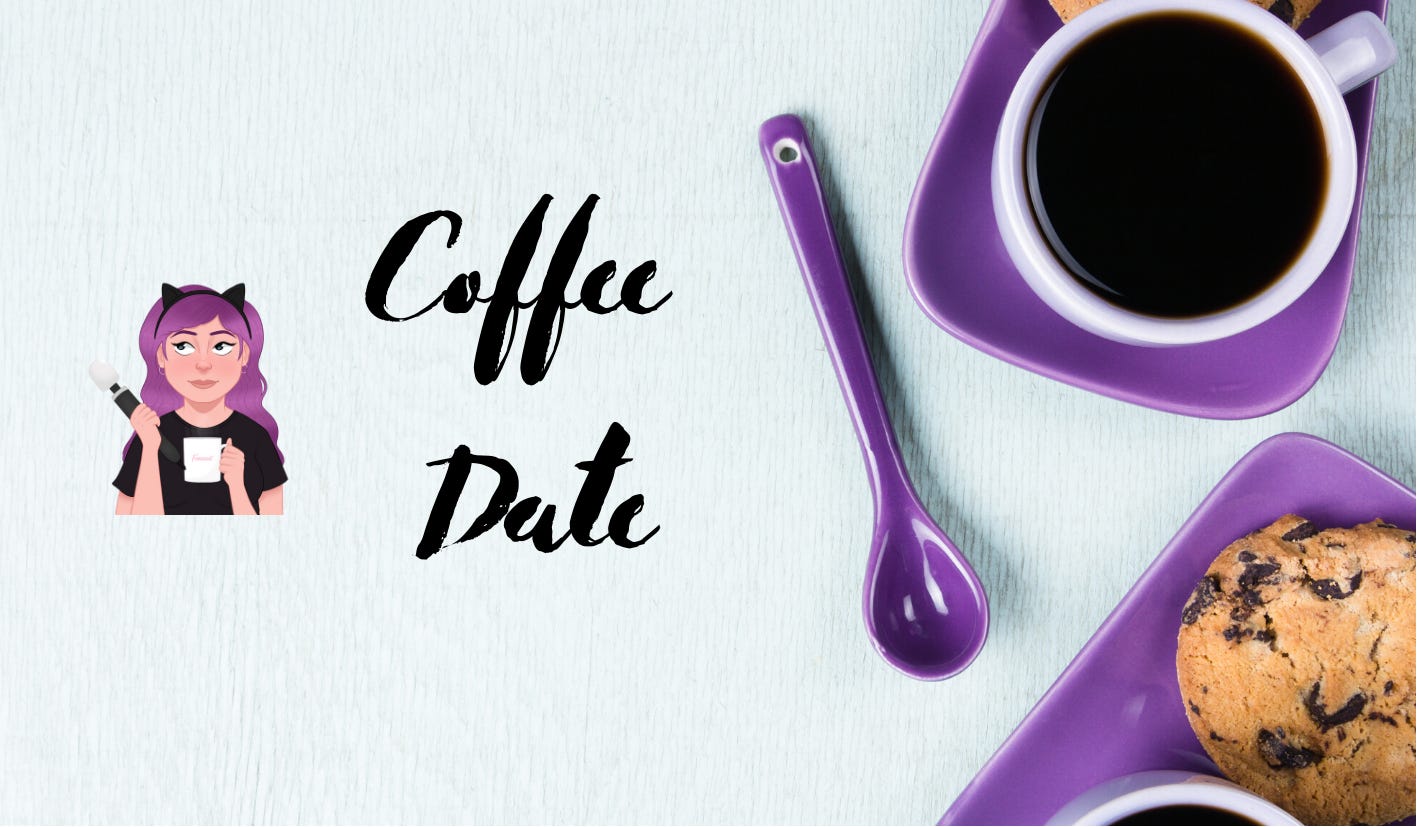 Hey friends!
Amy from Coffee & Kink here, with the first ever PROPER edition of Coffee Date, my brand new e-newsletter powered by Substack. I'm still feeling out exactly what this is going to be, so bear with me as I experiment with a few different formats. I would, of course, always love to hear what you guys think.
If you haven't yet subscribed to receive Coffee Date in your inbox every two weeks, please do sign up!
This week on the blog
I'm absolutely loving Little Switch Bitch's new Quote Quest meme, which uses quotes as jumping-off points for blog inspiration. Last week, I wrote Honouring the Darkness, which is about using kink as a tool in healing from trauma.

I was super excited to receive the brand-new We-Vibe Nova 2 for review. Find out what I thought!

For this week's Quote Quest, I wrote about writing as therapy, as healing, and as transformation. Check out I Wrote My Way Out.
Sexy deals of the week
So in honour of the above-mentioned We-Vibe Nova 2 release (which - SPOILER ALERT - I freaking loved,) there's a limited-time new release offer available. You can get this highly coveted dual stimulation toy for £89 (usual RRP £119.99.)
Shevibe's annual Summer Blowout sale is in full swing, with substantial discounts on Satisfyer, The Rabbit Company, Uberrime, Fun Factory, and more.
Please be aware that shopping with my affiliates sends a small commission my way at no extra cost to you!
Reads, watches, listens
Reading… I'm just about finished with a re-read of The Cows, a novel by Dawn O'Porter. Without giving too much away, it's the story of three women navigating motherhood, the desire for it, the choice to be childfree, and life after some very public shame. In some ways it's super progressive, particularly in normalising things like female desire, casual sex, and abortion. Unfortunately, it's pretty white, cis, and straight too. An interesting read if you take it for what it is and accept its limitations.
Watching… My partner and I are still working our way through all seven seasons of Star Trek: The Next Generation which, despite being 30 years old, I have never seen until now! I'm finding the generally-hopeful future portrayed in it quite comforting. I'm also watching season 4 of The Bold Type, a delightful series about three friends working for a women's magazine in New York. It's diverse, queer, feminist, sometimes tear-inducing, and often funny as fuck. ("Jane, a facial is… for your face!")
Listening… I'm listening to fewer podcasts and audiobooks lately because I am hardly driving anywhere. I used to drive 1000-2000 miles per month and all that time on the road was my listening time. That said, if you're going to listen to one podcast episode this week, make it the June 29th edition of The Smutlancer where my friend Quinn (of On Queer Street) discusses transphobia and how to be trans-inclusive in your life and writing.
Behind the scenes
Even though the lockdowns have started to be lifted across the UK, Mr CK and I are carrying on more or less as before. This means that, aside from a couple of socially-distanced outside hangs with family members, we're staying home and haven't seen anyone but each other socially since March.
My level of okay-ness varies from day to day. Most of the time I am resigned to this current reality and just doing what I can to cope with it. Other days I want to cry with the rage and unfairness of it all.
How are you folks doing? I hope, wherever you are in the world, that you're staying safe and doing what you need to do to take care of yourselves and your loved ones.
Sex in a pandemic
All the sex writers I follow are talking about pandemic sex right now. Which is pretty unsurprising. I've actually done my absolute best to keep my blog a COVID-free zone, but I do want to talk about it here for a minute.
The fact is, none of us have ever experienced anything like this before and so we're all navigating it from a place of "WTF do we do!?"
Personally, I've been having less sex with my nesting partner than usual until recently, though that is starting to change. I haven't seen my secondary partner in well over five months at this point, and we're obviously not dating or swinging right now, so 2020 has been a pretty quiet year on the sex front overall.
I tell you this because I want you to understand that whatever your sex life or lack thereof looks like right now, it's okay. If you're having tonnes of sex now you're at home more, yay for you! If you're too depressed, stressed out, or rage-filled to get it on, that's normal too. If you'd like to be having sex but can't because of illness or physical separation or singleness or current inability to date, your feelings are real and valid.
Your experience might not be anyone else's experience. We're all getting through this in our own way and dealing with our own struggles.
Last word
I guess the thought I want to leave you with this week is this: be kind. Be kind to your partner(s), your friends, your family. Be kind to yourself. Just… be kind at every opportunity.
We WILL come out of this and see brighter (and sexier) days ahead. But in the meantime, kindness will get us through.
See you in 2 weeks.
Love,
Amy xx