Coffee Date #2: Freelancing For Real
On a monumental career shift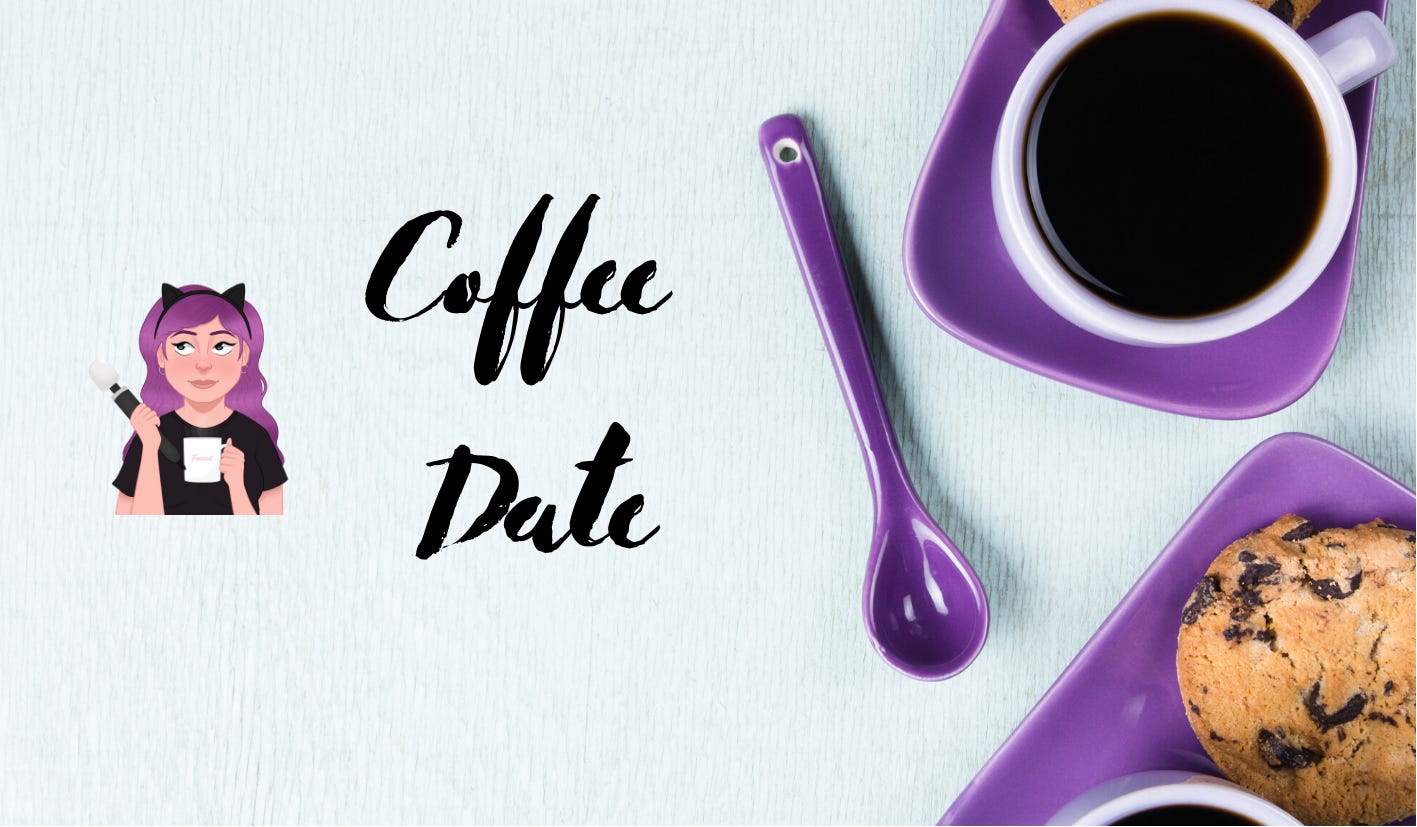 Hey friends!
Amy here, coming to you again with the second edition of Coffee Date, my new e-newsletter powered by Substack.
If you've joined since last week, welcome! If you're back again, it's lovely to see you again. This is a new venture, so I'd love to hear what you folks think and what I could improve.
If you haven't yet subscribed to receive Coffee Date in your inbox every two weeks, please do sign up!
This week on the blog
Sexy deals of the week
Lovehoney are having a huge lingerie outlet sale. There's 90 lines available at prices up to 70% off RRP!
Stockroom currently have 30% off selected anal toys and mouth gags - but hurry, this ends tomorrow (06 August 2020.)
Please be aware that shopping with my affiliates sends a small commission my way at no extra cost to you!
Reads, watches, listens
Reading… I was in the mood for some light reading this week, so I finally picked up Faker by Sarah Smith, which has been on my shelf for months. It's a funny and easy-reading rom-com and the main character is a woman of colour working in a male-dominated industry (and kicking ass doing it.)
Watching… I've been having little theatre and film watch-parties with my secondary partner and their primary, neither of whom I have seen in about six months at this point. Last week we watched Moana, which was just sweet and utterly delightful. Then a couple days ago we watched the Royal Ballet's production of The Sleeping Beauty streamed on Youtube, which was breathtakingly beautiful.
Listening… I was in my car for over an hour today for the first time in goodness knows how long. I listened to (and sang along with!) the entire soundtrack of Six The Musical. For those of you who don't know it, it's a powerful, joyful, occasionally heartbreaking and occasionally hilarious reimagining of Henry VIII's six wives as a diverse, feminist girl band… who get together to make an album about how much he sucked.
Behind the Scenes: Freelancing For Real
As of five days ago, I no longer have a "Day Job" and am a fully-fledged, full-time freelancer. It hasn't entirely sunk in yet that this is real, especially because it's been something I've wanted and worked for and waited for since I was in my early teens - well over half my life. I keep expecting to wake up and have to put on business dress and go to the office (even though I hadn't been to the office in four and a half months since the beginning of the pandemic. My brain is weird.)
Becoming self-employed is the biggest life-change I've made in years. Possibly ever. No longer having the security of a regular pay cheque to fall back on if it all goes horribly wrong is a little terrifying. I'm still feeling out my rules and limits and boundaries, how I'm going to look after myself while building the career and the life I want.
It's going to take some getting used to but I am very, very happy with this transition overall.
So now more than ever, if you enjoy my work, please share it! Retweet my posts, share them on your social media of choice, send this newsletter to your friends and encourage them to sign up. More eyes on my work means more income, means this new venture is more likely to work out in the long run.
Last word
This week, I want to leave you with this: go after what you want.
The world is a strange and scary place right now, and many of us - including me - are struggling to keep our mental health in order and our spirits up. We need to grasp for whatever joy, fun, pleasure, love, and other good things we can find right now.
So whatever it is, big or small, life-changing or just day-brightening, my challenge to you all this week is to go for what you want. You deserve it.
See you in 2 weeks.
Love,
Amy xx