Coffee Date #3: Love is a Verb
Separation and togetherness in pandemic times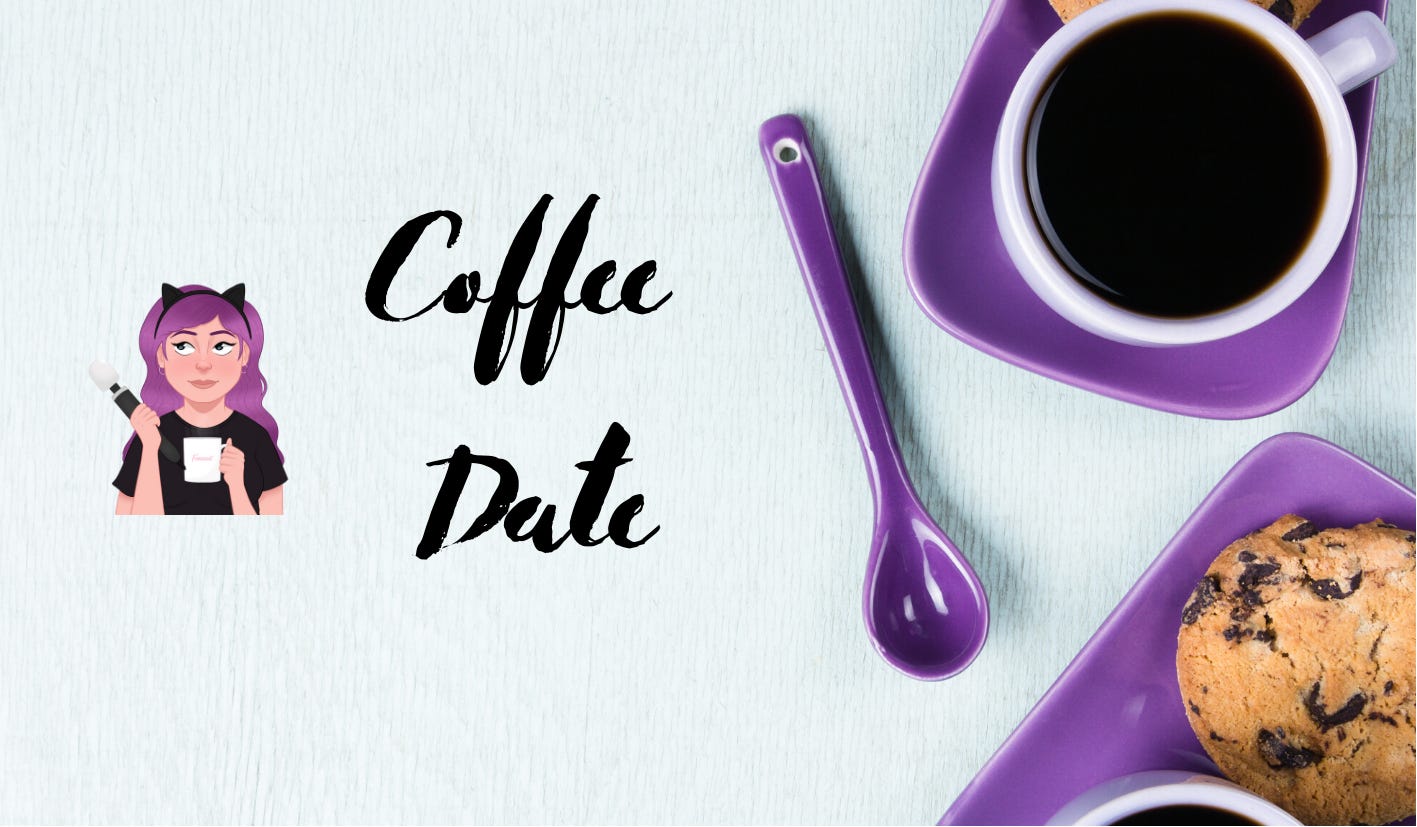 Hey folks,
This is Amy from Coffee & Kink, with the latest issue of Coffee Date. If you're new, welcome! If you're returning, thanks for joining me again.
How are you all liking the newsletter? I'd love your feedback as I'm still finding my feet with this venture.
If you haven't yet subscribed to receive Coffee Date in your inbox every other Wednesday, please sign up!
I've been thinking about love
I've been thinking a lot about love recently - what it is, what society tells us it should be, and what it actually can be if we let it.
More than ever in these pandemic times, I believe that love is a verb. It's not just something we feel, it's something we do.
I haven't seen my secondary partner in over 6 months at this point and I'm not going to lie, it fucking sucks. I miss them every day and still not knowing when we're going to be able to safely meet up is the absolute worst. I think it's fair to say we've both had to make an effort to keep our relationship strong through all this. When you're used to seeing each other at least semi-regularly, shifting to online-only for months on end is rough. Fortunately, we love each other super-much and technology has been a godsend. Yay for online dates when you can't have the real thing.
My heart goes out to everyone who is separated from their partners at the moment. But if you're isolated at home with your partner and things are less than rosy, I feel for you, too. Many of even the strongest of relationships are being tested right now, by everything from frustration at not being able to get your own space, to differences in COVID risk comfort levels. It's fucking hard and it's okay if you're not okay.
It may not be helpful to you at all, but remembering that love is a verb has been helpful to me throughout these last few months. When I do the out-of-the-house because I'm at lower risk than my nesting partner, that is love. When I send a silly meme or a sexy pic or a "when all this is over…" thought to my distance partner, that is love. It might not be possible to do the big grand gestures right now, but ultimately they're a nice-to-have but not what really matters. You can love someone in many different ways, and in the end it's the sum of thousands of tiny little things that you do every day.
Remember this applies to yourself, too. Showing ourselves love and compassion is hard at the best of times, which this… emphatically isn't.
I have these adorable stickers from Indigo Lark on Etsy which say things like "took time for me," "asked for help," and "went for a walk." Sticking them in my planner reminds me that showing myself love and care is important. It's dorky, maybe, but it helps.
What can you do to show yourself love today?
This week on the blog
I'm writing about abuse a lot lately. This week, I wrote It's Never All Bad. If you've ever wondered "why didn't they just leave?" about an abuse survivor, please read this piece.

Last week, I hosted a phenomenal guest post by Velvet Divine (fae/faer). Open to Trans Girls? explores what it's like to date online as a non-binary, trans femme person, and every word of it is just incredible.

I reviewed Luna Carruthers' Pain Play for Everyone, a short and easy read written by a submissive, for submissives.
Sexy deals of the week
Lovehoney have discounts of up to 70% on selected wand vibrators this week. If you want power power power in your sex toys, a wand is what you need.
Bondara are offering 3 for 2 on knickers and hosiery right now.
Please be aware that shopping with my affiliates sends a small commission my way at no extra cost to you!
Reads, watches, listens
Reading… I've been picking up my copy of Amanda Lovelace's The Witch Doesn't Burn In This One (a birthday present from my dear friend Quinn) and reading random pages. It's a collection of poems about feminism, rape culture, abuse, trauma, body image, and more. In every page, I find something that cracks me open and breaks my heart and heals a little crack in my psyche as I realise someone else has felt this too.
Watching… This week's watch-party was the Royal Ballet interpretation of Shakespeare's The Winter's Tale (available on subscription service Marquee TV.) It is stunning, joyous, and heartwrenching in equal measure. I've also been rewatching season 1 of Crazy Ex Girlfriend, which I love for its meaningful representation of mental illness and ridiculously catchy soundtrack. (Seriously, if you haven't listened to Gettin' Bi yet, go and do so. You can thank me later.)
Listening… I'm spending a lot of my introvert time listening to podcasts and knitting at the moment. Something about the combination of repetitive stitching and having something to focus my brain on is very comforting. I've recently discovered the Musicals With Cheese podcast, which is a delight if, like me, you're very into musical theatre.
Last word
I'm going to circle back to what I said at the beginning. Love is a verb. Love fiercely and unapologetically and consistently - others and yourself.
See you in two weeks!
Love,
Amy xx