Coffee Date #5: I Miss...
On missing and longing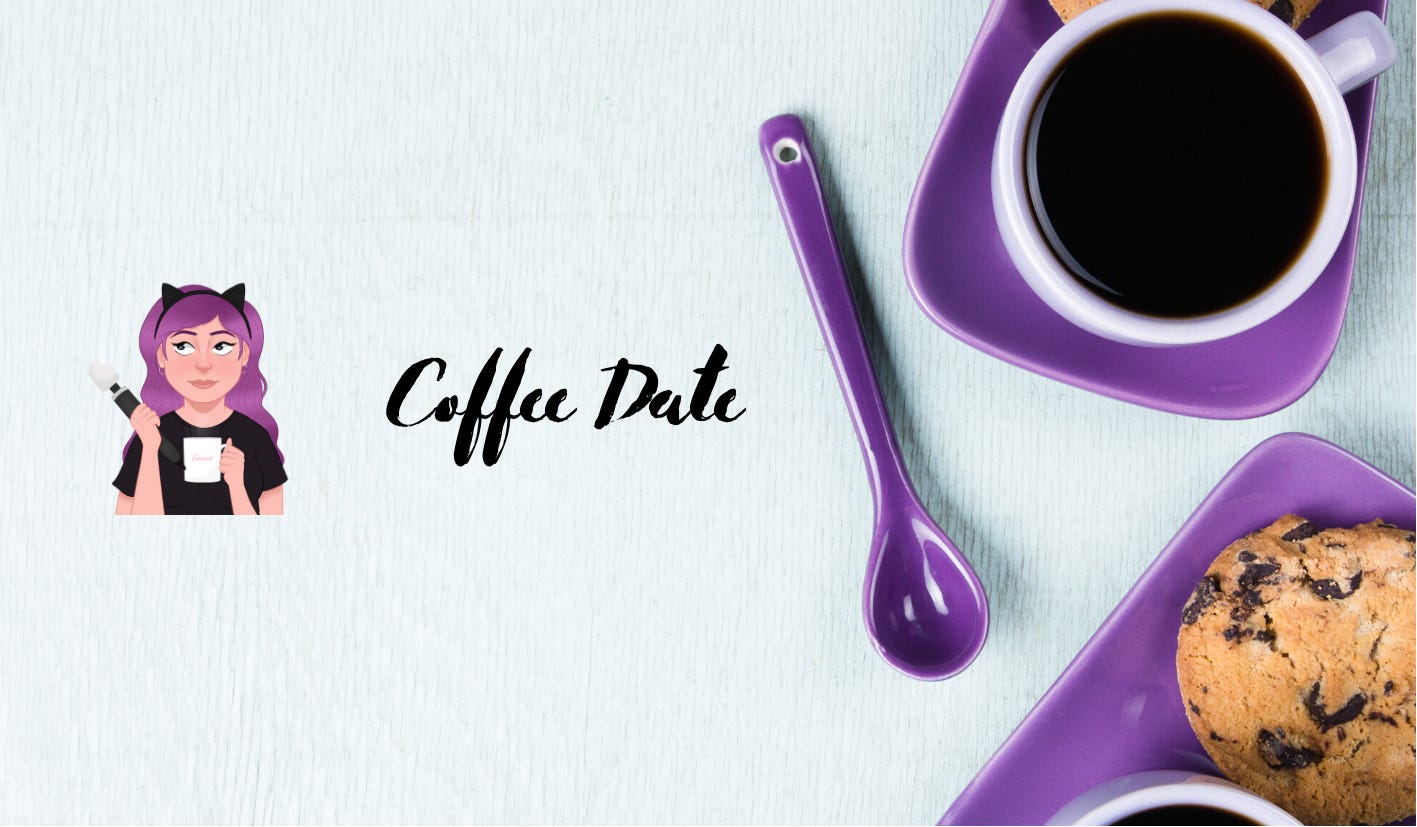 Hey y'all,
Amy here, pleased to be coming to you again with the latest edition of Coffee Date. If you're new, welcome! If you're returning, welcome back and I hope you're continuing to find the newsletter valuable.
If you enjoy reading, please tell a friend.
If you haven't yet subscribed to receive Coffee Date in your inbox every other Wednesday, please sign up to never miss an issue!
I'm Sick of All This
This one isn't going to be a cheerful one, babes. Fact is, I'm trying to be positive as much as possible, but I've just had-the-fuck-enough of this pandemic and the havoc its wreaking on our lives right now.
How are you all doing?
Right now, I feel like I'm pretty much close to bursting into tears at the slightest provocation. I'm navigating family members and friends with WILDLY varying degrees of COVID caution levels, and trying (and failing) to keep everyone happy.
I suspect pretty much everyone is dealing with some level of this particular fun at the moment, of course.
What do you miss the most?
I miss my secondary partner. I haven't seen them in seven months at this point. I miss the warmth of their hugs and the comforting smell of them and the easy way we touch and laugh and move around one another.
I miss my best friend. Going on adventures or long walks to nowhere with him. Browsing vintage shops and finding awesome or absurd pieces for one another. Eating our body-weights in all-you-can-eat sushi. Dancing in gay bars and befriending random fellow queers. The night bus and falling asleep in front of the first ten minutes of a movie and hung-over brunches the next morning.
I miss hanging out in coffee shops. Going in, masked up, and getting my latte to go just isn't quite the same somehow. I miss setting up with my laptop, carefully angling my screen away from prying eyes, so people can't see that I'm writing about dildos.
I miss sex clubs. The fucking, yes, but more than that. I miss sauntering up to the bar in lingerie and feeling men's eyes on me. I miss casual flirtation, maybe a peck on the cheek, then running off to dance and blowing a provocative kiss. I miss meeting another couple and sharing a glass of wine while we figure one another out, that frisson of possibility. I miss the moments of eye contact with my partner across a room full of sexy people, the look that means "our life is awesome."
I miss restaurants. Food I didn't have to cook. Getting dressed up and sitting across from my partner or a friend.
I miss seeing my family in a way that wasn't a fraught, stressful negotiation of different people's comfort levels.
I miss the theatre. I miss the cinema. I miss live music.
I miss my university campus. I miss the library.
I miss conferences.
I miss my life.
This too shall pass. I just wish it'd hurry up and fucking pass already.
This week on the blog
Sexy deals of the week
Lovehoney have up to 70% off selected sexy lingerie lines this week. There are substantial reductions on items from the Enchanted, Barely There, 7 'Til Midnight, and Fierce ranges, among others.

Shevibe are offering an extra 10% off their already heavily discounted clearance section this week. There are items by Le Wand, Satisfyer, Mystim, Tantus, and more eligible for the offer.

Stockroom have 25% off all their own-brand items - but hurry, this one finishes tomorrow (17 September.)
Please be aware that shopping with my affiliates sends a small commission my way at no extra cost to you!
Reads, watches, listens
Reading… I'm currently reading Unfollow by Megan Phelps-Roper. It's her autobiography about growing up in, and subsequently deciding to leave, the Westboro Baptist Church. It's a challenging read so far. As someone who is many of the things that hate-group-disguised-as-a-church loathes, it's quite hard to read about just how deep the brainwashing, justifications, abuse, and cult tactics go. Still, it's a fascinating insight, and Phelps-Roper displays remarkable self-awareness and compassion.
Watching… I've been rewatching Crazy Ex Girlfriend and I love it even more on the second watch. Serious points about mental illness, trauma, friendship, love, and family dysfunction set to a ridiculously catchy musical-theatre-esqe soundtrack? Yes please! Plus there are openly bisexual characters!
Listening… I've been trying to listen to music I found empowering and uplifting right now, in an attempt to pull myself out of this COVID funk (or at least not sink any further into it.) I'm currently earwormed with She Sets the City on Fire by Gavin DeGraw.
Last word
I'm still taking reader questions for #SexEdSeptember and beyond. I'd really like to revitalise the "Ask Amy" column. Please email me or drop me a line on Twitter if you have a sex, kink, or relationships question you'd like me to answer. No question is silly and anonymity will always be respected!
See you in two weeks. Until then, stay safe, wear a mask, and take care of each other.
Love,
Amy xx