Coffee Date #6: Smut for Good
On creating something that's bigger than you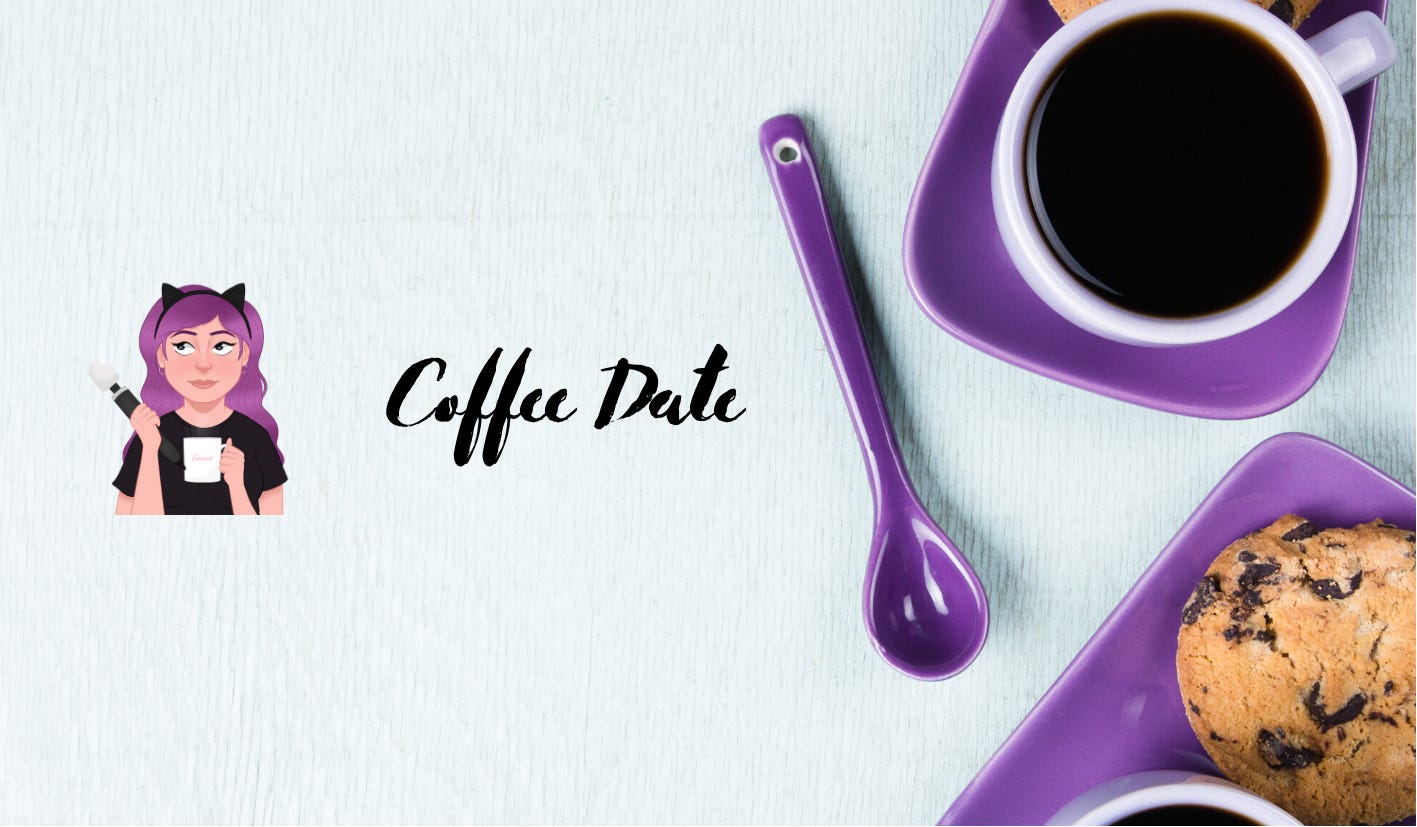 Hey friends,
Amy here again, bringing you this week's edition of Coffee Date. If you're new, welcome! If you're returning, welcome back and I hope you're continuing to find the newsletter valuable.
If you enjoy reading, please tell a friend.
If you haven't yet subscribed to receive Coffee Date in your inbox every other Wednesday, please sign up to never miss an issue!
Smutathon 2020: A Founder's Perspective
Last Saturday (26 September 2020,) a group of sex bloggers, erotica authors, and other sex positive folks all over the world participated in Smutathon 2020. Smutathon is the sex-writing-for-charity challenge I founded in 2017. Each year, we write for 12 hours straight in exchange for sponsorship to an awesome charity. Since 2017, we've raised over £8000 for charities in the UK, Ireland, and North America.
This year, we supported Endometriosis UK and at time of writing, we've raised just over £3100. For a charity that gets no government funding and supports thousands of people on less than half a million a year, this is tremendous. It's not a drop in the ocean - it will make a real difference.
There's still time to donate, too! If you donate before Friday 2 October at midnight (UK time,) you'll be entered into our raffle to win awesome sex prizes.
The most awesome thing about creating Smutathon has been watching it grow over the years. It might have been my idea originally, but it's far bigger than me. The event is now managed by a team of nine awesome folks based between the UK, Canada, and the USA. There were so many people taking part this year that I don't actually know how many there were in total! I do know where were people I've never met, spoken to, or even heard of participating.
Which is just fucking awesome.
We have the community to thank for the success of this endeavour. Everyone who has participated, whether they dropped in for an hour or completed the full 12-hour challenge with us. Everyone who has donated, given a prize, helped spread the word, attended a Smut Slam, or cheered us on has made a real difference.
We're still on a high from Saturday and already looking forward to next year.
Want to celebrate with us? Join our FREE virtual Smut Slam on Friday to hear some of our best work read live by the authors!
This week on the blog
Sexy deals of the week
Please be aware that shopping with my affiliates sends a small commission my way at no extra cost to you!
Reads, watches, listens
Reading… What else? I've been reading all the wonderful work produced by my fellow writers and bloggers during Smutathon! Check out our link up and the official hashtag to enjoy all the smut.
Watching… After watching the entire seven seasons of Star Trek: The Next Generation (lockdown life, y'all,) my partner and I are now working our way through Deep Space Nine. The first season is uneven, but the hopeful-future-for-humanity is something we desperately need a little more of right now.
Listening… I'm getting back into podcasts lately and I'm really enjoying Autostraddle's To L and Back podcast, where they recap episodes of The L Word. It's a hugely problematic show in many ways, and some elements have aged better than others. However, it was hugely influential to me as a baby-queer, so revisiting it ~16 years later from a queer feminist perspective is fun and interesting. (And no, I haven't watched Generation Q yet! I'm saving it to marathon with my best friend when the pandemic is over.)
Last word
Thank you all for reading, as ever.
By the way: do you have a sex and relationships question? I'm trying to revitalise the "Ask Amy" column on the blog. Please email me or drop me a line on Twitter. No question is silly and anonymity will always be respected!
See you in two weeks. Until then, stay safe, stay sexy, and wear a fucking mask.
Love,
Amy xx