Coffee Date #8: Bright Spots
On finding sparks of joy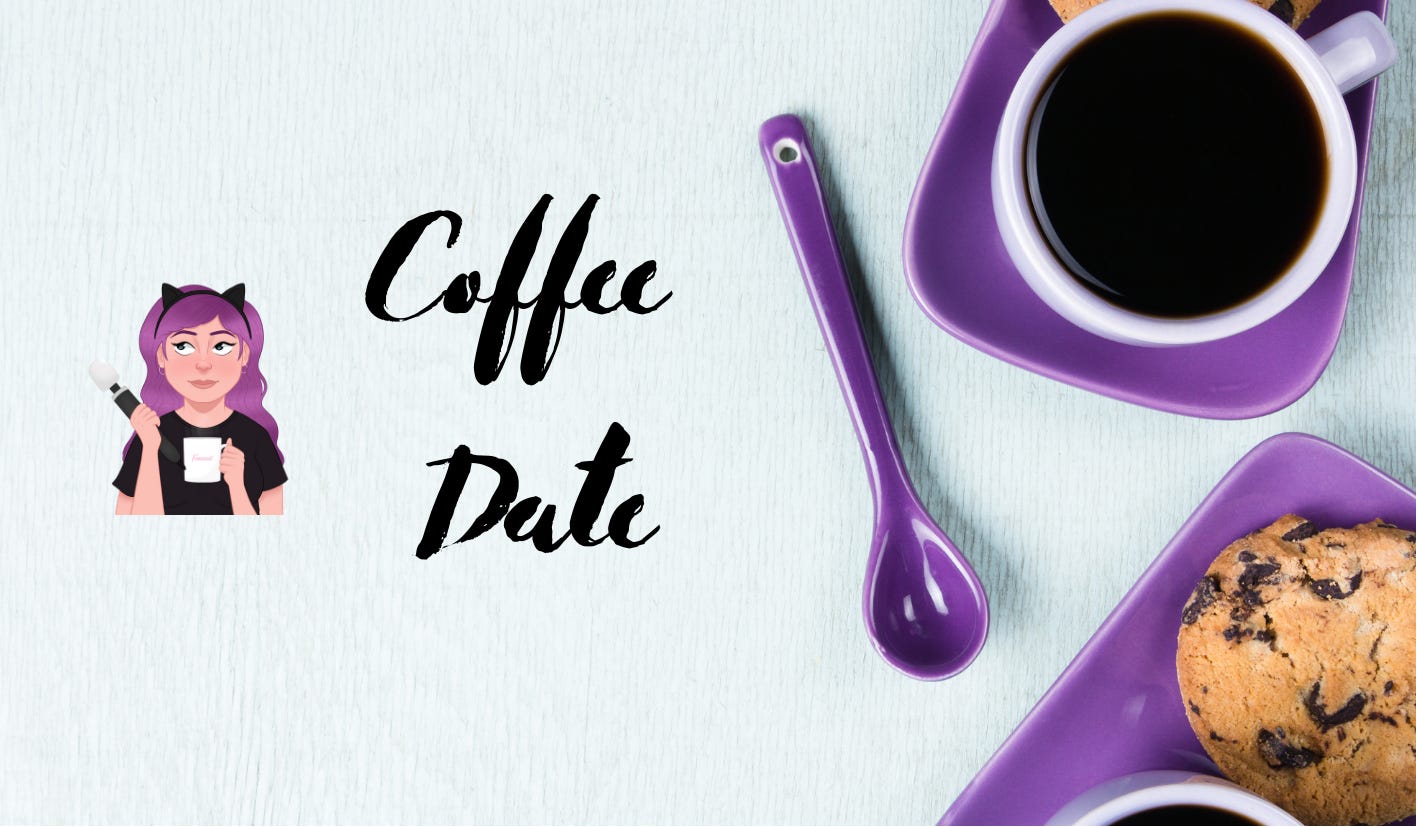 Hey everyone,
Welcome back to Coffee Date. If you're new, welcome! If you're returning, welcome back and I hope you're continuing to enjoy these fortnightly missives. It's always a joy to sit down and write to you all.
If you enjoy reading, please tell a friend.
If you haven't yet subscribed to receive Coffee Date in your inbox every other Wednesday, please sign up to never miss an issue!
Bright spots in dark times
I'm writing this almost a week before it will go out. That's because my partner and I will be taking a week's holiday as of this Sunday. We're going to a very remote, secluded location where we will be able to socially distance and are unlikely to interact with other humans except for when we go out to buy supplies. It's not quite the three-week, multi-city extravaganza we had planned for this summer and had to cancel. But it's a holiday. It'll be the first time we have stayed overnight away from our home since February.
This is a moment of joy in these bleak times.
I have seen a lot of instances, lately, of people apologising for having fun, experiencing positive emotions, or enjoying the things that make them happy. I understand the impulse, because I've felt the same thing. Who am I to be happy about anything right now? In the grand scheme of *gestures at everything*, what does it matter if something made me smile?
So if you've felt like this at any point, I want you to know you're far from alone.
But here's the thing: your unhappiness doesn't actually fix anything. The world might be pretty bleak at the moment, but turning away from the things that make you happy won't fix it. It won't help anyone, least of all you.
Yes, a lot of things are on fire right now. I don't think any of us are in any doubt about that. That's why we need to turn towards, not turn away from, whatever bright spots of light we can find in all this darkness.
For me, this week, that looks like running off to a remote spot with my partner. Sometimes it looks like watching something that makes me laugh, giggling at my cats chasing each other, reading a book that makes me forget how dark the real world feels right now. Dying my hair even though hardly anyone is going to see it, just because it makes me happy for it to be bright purple. Satisying my chocolate cravings with a really decadent dessert. Having the kind of sex that pulls me out of my head.
When we live in a world that is trying to tear us down at every single turn, finding things that bring us joy is itself a radical act of self love. The world doesn't always want us to love and nurture ourselves - especially if we embody one or more marginalised identities.
Joy, pleasure, fun, laughter… these things are how we heal, recuperate, keep going. Enjoying something that might be seen as frivolous doesn't mean you've given up on the fight for a better world. It's how you regroup and care for yourself so we can all keep fighting another day.
Your pleasure matters. Your joy is beautiful. The world needs your laughter, your sense of fun. And you need it, too. So please - whatever little spark of light you can find this week? Turn towards it, hold onto it, and enjoy it with all your heart.
This week on the blog
Sexy deals of the week
This one is a little hard to do since I'm writing this one almost a week in advance and deals tend to come and go quickly!
Instead, I'd like to invite you to check out my curated collection of favourites at The Pleasure Garden shop. The Pleasur Garden is a women-owned, inclusive sex shop that uses gender-neutral marketing and stocks only body-safe products. Getting to put together a Coffee & Kink collection was an absolute delight.
Please be aware that shopping with my affiliates sends a small commission my way at no extra cost to you!
Reads, watches, listens
Reading… I've not had much time to read for pleasure recently as I've been so busy with work, so I'm still slowly working my way through A Curious History of Dating. I'm hoping to get to do lots of reading on holiday, though! I'm planning to delve into Turned On: Science, Sex and Robots by Kate Devlin next.
Watching… This week, we went through our DVD collection to pick out the ones we're going to take on holiday with us. Mr CK and I have an eclectic film taste between us, and finding points of crossover is an interesting challenge (he likes musicals far less than I do, while I find violent media to be intolerable and he isn't bothered by it, for example.) So when we watch things together, lively discussions often ensue!
Listening… My song-of-the-week is Blood in the Cut by K. Flay. It's speaking to how much I want to be somewhere crowded, somewhere loud, somewhere fucking overwhelming to drown out the endless quiet of seven months at home.
Say something, do it soon
It's too quiet in this room
I need noise
I need the buzz of a sub
Need the crack of a whip
Need some blood in the cut
Last word
Thanks for being with me again this week, friends, and for continuing to read the blog and support my work. I can't always reply to every one of your wonderful messages and emails, but please know that I do read and appreciate every single one.
By the way: do you have a sex and relationships question? I'm trying to revitalise the "Ask Amy" column. Please email me or drop me a line on Twitter. No question is silly and anonymity will always be respected!
See you in two weeks.
Until then, stay safe, stay well, wear a mask, and find your joy.
Love,
Amy x